House Shark DVD
Street Date 7/24/18

All pre-orders will be shipped as soon as they are in stock. Sometimes this is 1-2 weeks early, sometimes this might be a few days after the street date.

If other in-stock items are ordered at the same time, all items will ship together. If you want your in-stock items shipped immediately, please place pre-orders separately.

All dates, artwork and features are subject to change.

Pre-orders will be charged when you place the order.

No cancellations on pre-orders.


Just when you thought it was safe to go home! When Frank (Trey Harrison) finds his happy home under attack by a dangerous but largely unknown breed of shark, he's enlists the aid of the world's only "House Shark" Expert, Zachary (Michael Merchant), and a grizzled former real estate agent, Abraham (Wes Reid), to embark on a desperate quest to destroy the beast and claim back his life. It's JAWS in a house! From writer/director Ron Bonk. Produced by Ron Bonk ("She Kills", "Clay") & Jonathan Straiton ("Night of Something Strange"). Starring: Trey Harrison, Wes Reid, Michael Merchant, Wayne W. Johnson, Nathan Bonk, Melissa LaMartina, Jennie Russo, Samantha Varga, Edward Mastin, Brett Janeski. SPFX by Marcus Koch and Matthew Ash. Score composed by Emmett Van Slyke. Producers Jonathan Straiton, Tim Ritter and Howard Gromero.

FEATURES:
Commentary track
Bloopers
Trailers
Featured Products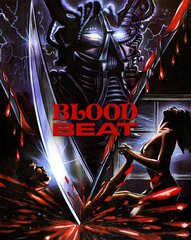 Blood Beat Blu-Ray/DVD
$21.99
Corpse Grinders Blu-Ray
$19.99