Happy Hell Night Blu-Ray
26 years ago he sold his soul to the devil...now it's time to pay!
On October 31, 1963, seven members of the Phi Delta Kappa fraternity were found brutally mutilated following an occult ritual inside the Winfield Mausoleum. The sole suspect, depraved priest Zachary Malius, was imediately locked away in the bowles of the state asylum. 25 years later, a fraternity hazing prank goes terribily wrong and the psychotic ghoul escapes. Now a relentless evil has been unleashed and the coeds of Winfield College will once again face bloody horror - and learn the shocking truth - of Happy Hell Night. Darren McGavin, Jorja Fox, Ted Clark and Sam Rockwell star in this rarely-seen slasher sickie packed with gratuitous nudity and gore galore.
FEATURES:
Brand new 2K scan of the original negatives
Reversible Cover
Theatrical Trailer
Featured Products
Barn Blu-Ray
$21.99
Terrifier Blu-Ray/DVD
$19.99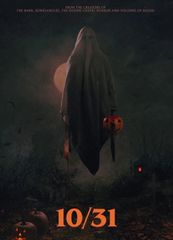 10/31 DVD
$16.99