Exploitation DVD
Street Date 8/28/18

All pre-orders will be shipped as soon as they are in stock. Sometimes this is 1-2 weeks early, sometimes this might be a few days after the street date.

If other in-stock items are ordered at the same time, all items will ship together. If you want your in-stock items shipped immediately, please place pre-orders separately.

All dates, artwork and features are subject to change.

Pre-orders will be charged when you place the order.

No cancellations on pre-orders.


Melissa is a fetish model who begins to see the dark side of the industry. She warns others of the dangers and wonders if she should heed her own warning before it is too late. This movie was written before the popular social movements about harassment were formed, but it is not a preachy movie, nor is it a tale of condemnation. It is a tragedy, with a few laughs. It is better to find laughter than to search for demons.
FEATURES:
Also contains the movie 'Metalheads' as well as a half hour of bloopers.
Featured Products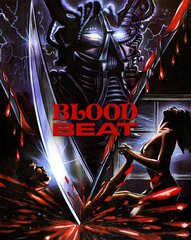 Blood Beat Blu-Ray/DVD
$21.99
Corpse Grinders Blu-Ray
$19.99