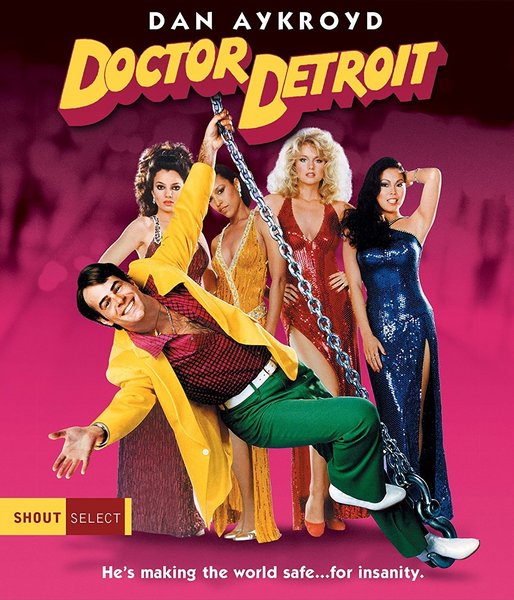 Doctor Detroit Blu-Ray
Street Date 4/24/18

All pre-orders will be shipped as soon as they are in stock. Sometimes this is 1-2 weeks early, sometimes this might be a few days after the street date.

If other in-stock items are ordered at the same time, all items will ship together. If you want your in-stock items shipped immediately, please place pre-orders separately.

All dates, artwork and features are subject to change.

Pre-orders will be charged when you place the order.

No cancellations on pre-orders.

Clifford Skridlow's newest profession is the oldest profession in Doctor Detroit, a chaotic comedy starring the one and only Dan Aykroyd.
When fast-talking pimp Smooth Walker (Howard Hesseman, WKRP In Cincinnati) finds himself in hot water with Chicago crime boss Mom (Kate Murtagh), he claims that there's a new player in the game: Doctor Detroit, a cat who's badder than bad ... and completely fictitious. In need of a patsy until the heat dies down, Smooth hits paydirt with mild-mannered professor Clifford Skridlow (Aykroyd) — and promptly skips town, leaving his bevy of sexy "employees" in Clifford's hapless hands. Charmed by the ladies and spurred by his dedication to chivalry, Clifford agrees to become their protector and ally, transforming himself from a power-walking professor to a heroic hustler ... and throwing down the gauntlet to save his college from financial ruin and the four damsels from the wrath of Mom!
Featured Products