Class Of 74 DVD
THE CLASS OF 74
The Class of '74 is the story of four young women who belong to today . . . or perhaps even to tomorrow. When we first meet them on the campus, it is instantly apparent that they are four young women to whom nature has been generous . . . four bodies that have been amply endowed, designed to turn men's heads and cause their wives, girlfriends and/or mistresses concern. And interestingly, all four have looks to go with their bodies. Four distinctive, different faces, all of which epitomize young womanhood . . . in short, you don't know where to look first. And then we hear them talking . . . We realize they are bright, witty, intelligent women who believe in doing their own thing; free spirits whose moral codes are where everyone else secretly wishes theirs were. Except Gabriella. Gabriella (Barbara Caron, ESCAPE TO PASSION) is a bit unworldly, naive about life but willing to learn. She looks to her friends for advice and consultation. Then there is Maggie (Sandra Currie, POLICEWOMAN) who feels she is the equal of any man and has the looks, confidence and drive to do anything she wants. And Carla (Marki Bey, SUPERDUDE), black and beautiful, who is having a love affair with life. Black or white, it makes no difference as long as you live for today. Finally, there is Heather (Pat Woodell, THE BIG BUST OUT), blonde, and bright, whose ambitions lean towards owning a Greek island or being the next Princess of Monaco. Watch and listen to her for a few minutes and you'll know she's going to get what she wants . . . and more!

GABRIELLA, GABRIELLA

Director Mack Bing delivered a strange film about a woman, Gabriella (Barbara Mills), who encounters strange hippies, rich people, and groupies in a strange, socially charged movie that runs like an experimental film. This film was later bought by Arthur Marks/General Films who added new footage and turned it into something new... CLASS OF '74.

Featured Products
Barn Blu-Ray
$21.99
Terrifier Blu-Ray/DVD
$19.99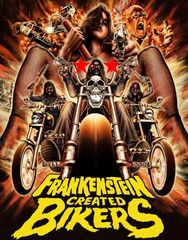 Frankenstein Created Bikers Blu-Ray