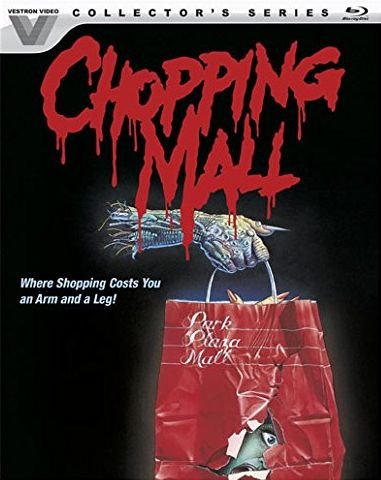 Chopping Mall Blu-Ray
Some people will kill for a bargain and at the Park Plaza Mall they do! Here, you can shop till you drop...dead!
High tech robots equipped with state-of-the-art security devices have been recruited as the new mechanical night watchmen for the Park Plaza Mall. When a jolting bolt of lightning short circuits the main computer control, the robots turn into killbots...on the loose after unsuspecting shoppers! Four couples are trying to make it after-house in a mattress store. They make it all right...in the morgue!
FEATURES:
Audio Commentary with Director / co-writer JIM WYNORSKI, actress KELLI MARONEY, and co-writer / 2nd Unit Director STEVE MITCHELL
Audio Commentary with Historians / Authors: NATHANIEL THOMPSON (Mondo Video) and RYAN TUREK (Shock 'til you drop)
Audio Commentary with Director / co-writer JIM WYNORSKI and co-writer / 2nd Unit Director STEVE MITCHELL
Isolated score track by Chuck Cirino
BACK TO THE MALL - Cast and Filmmakers remember the making of CHOPPING MALL
CHOPPING "CHOPPING MALL" editor LESLIE ROSENTHAL discusses the editing
THE KILLBOTS - Creator ROBERT SHORT talks about creating the robots ( with never seen concept drawings)
SCORING "CHOPPING MALL" an interview with composer CHUCK CIRINO
THE ROBOT SPEAKS! - 10 questions with the robot
THE LOST SCENE - introduction with filmmakers: JIM WYNORSKI and STEVE MITCHELL, and the three page scene itself
ARMY OF ONE - A visit with CHOPPING MALL'S biggest fan: CARL SAMPIERI
CHOPPING MALL: CREATING THE KILLBOTS featurette
Trailer
Featured Products