Body Of Evidence Blu-Ray
Pop superstar Madonna stars with Willem Dafoe, Anne Archer, and Julianne Moore in the bold and titillating erotic thriller, Body Of Evidence.
Rebecca Carlson (Madonna) is a powerful woman. Intelligent, successful, and breathtakingly beautiful, she can bring almost any man to his knees ... and that's exactly where she wants them. But when a night of unbridled sexual abandon results in the death of a prominent businessman, Rebecca finds herself on trial for murder. Now it's up to her attorney (Dafoe) to prove her innocence ... but when he becomes entangled in her web of erotic games, his road to the truth proves to have as many curves as his enigmatic and seductive client!
Featured Products
Barn Blu-Ray
$21.99
Terrifier Blu-Ray/DVD
$19.99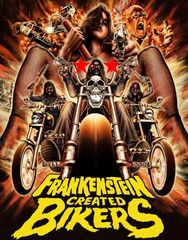 Frankenstein Created Bikers Blu-Ray