Blood Mania / Land Of The Minotaur DVD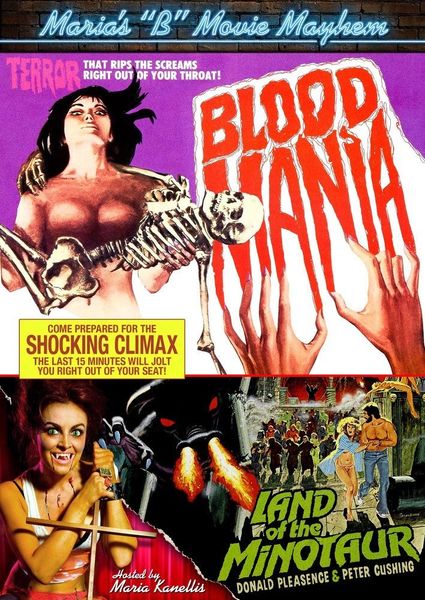 Blood Mania / Land Of The Minotaur DVD
BLOOD MANIA

Young doctor Craig Cooper (Peter Carpenter) is assistant to Ridgeley Waterman, head of a Los Angeles hospital. Until the elder man's stroke which keeps him confined to his residence, Cooper has managed to shake off the advances of Victoria, Waterman's daughter. Larry, a friend of Cooper's from college days, blackmails the young medic, threatening exposure of the abortions he performed during his internship. Cheryl, Cooper's longtime amour, plans to try to make a deal with the blackmailer. Victoria, sensing something is wrong, offers to help Cooper, getting the $50,000 he needs. He submits to her offer, and to an affair, not realizing the intensity of her desire for him, nor the dementia towards which she is slipping. The last 15 minutes of Blood Mania are so unexpected, so much of a shocker, you can't miss it! Maria De Aragon, Vicki Peters, Leslie Simms, and Alex Rocco co-stars. Directed by Robert Vincent O'Neill (ANGEL, BALTIMORE BULLET)!

FEATURES:

Audio commentary with director Robert Vincent O'Neill, star Leslie Simms, moderated by Jeff McKay
On camera interview with Vicki Peters

Play with our host Maria Kanellis

Original theatrical trailer

Land Of The Minotaur (1977)
Tourists visiting a Greek archeological site are being abducted by a strange cult, intent on providing their God - the Minotaur - with sacrifice. Father Raoche (Donald Pleasance) enlists the help of former pupil and NY private detective to find out what has happened to them. Bodacious red Klansman sacrifice hot sexy chick in Mikenos! Luan Peters and Peter Cushing co-stars.

FEATURES:

Play with our host Maria Kanellis

Same 16x9 version that came out previous in many multi-packs

Featured Products
Barn Blu-Ray
$21.99
Terrifier Blu-Ray/DVD
$19.99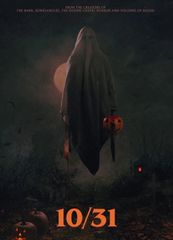 10/31 DVD
$16.99