Went To Coney Island On A Mission From God...Be Back By Five Blu-Ray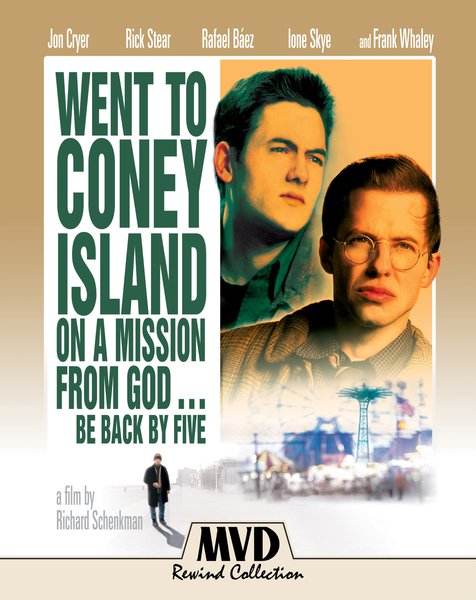 Went To Coney Island On A Mission From God...Be Back By Five Blu-Ray
Street Date 4/24/18

All pre-orders will be shipped as soon as they are in stock. Sometimes this is 1-2 weeks early, sometimes this might be a few days after the street date.

If other in-stock items are ordered at the same time, all items will ship together. If you want your in-stock items shipped immediately, please place pre-orders separately.

All dates, artwork and features are subject to change.

Pre-orders will be charged when you place the order.

No cancellations on pre-orders.


As kids, Daniel (Jon Cryer) Stan (Rick Stear) and Richie (Rafael Báez)) were inseparable... the best of friends. But as they grew up, they grew apart, and now Richie has gone missing, sending Daniel and Stan on a wintry trek to Coney Island to find their long lost friend. Their trip leads them on a wild journey to the famed amusement park in the off season, where they encounter some of the strangest people this side of the Brooklyn Bridge. Along the way, Stan and Daniel discover they have demons of their own and as they search for their friend, they make revelations about themselves which will change their lives forever. Based on a true story, Went to Coney Island... is an hilarious and heart-rending tale featuring an all-star cast which includes Emmy Winner Jon Cryer ("Two and a Half Men", Pretty in Pink), Rick Stear ("Buffy The Vampire Slayer"), Rafael Báez (Empire, Shanghai Noon), Ione Skye (Say Anything..., Wayne's World), Frank Whaley (Pulp Fiction, Broken Arrow), Peter Gerety (Charlie Wilson's War, Flight), Dominic Chianese ("The Sopranos", The Godfather Part II), Judy Reyes ("Scrubs", "Devious Maids"), and Tony Award Winner Wilson Jermaine Heredia (Rent) in this award winning dramedy from writer/director Richard Schenkman (Jerome Bixby's The Man From Earth).
FEATURES:
High Definition Blu-ray (1080p) presentation of the main feature from a frame-by-frame digital restoration from original 35mm film elements.
5.1 Surround Audio (Uncompressed PCM) and 2.0 Stereo.
NEW Introduction from director Richard Schenkman and Jon Cryer (HD)
Audio commentary from director Richard Schenkman and Jon Cryer
'Went to Coney Island... To Make a Movie' Behind the scenes featurette (18:36, SD)
'The Producer' - Comedy short film directed by Richard Schenkman (3:00, SD)
Photo Gallery
Original Theatrical Trailer (SD)
Collectible Mini-Poster
Featured Products