Violence Movie 1 and 2 DVD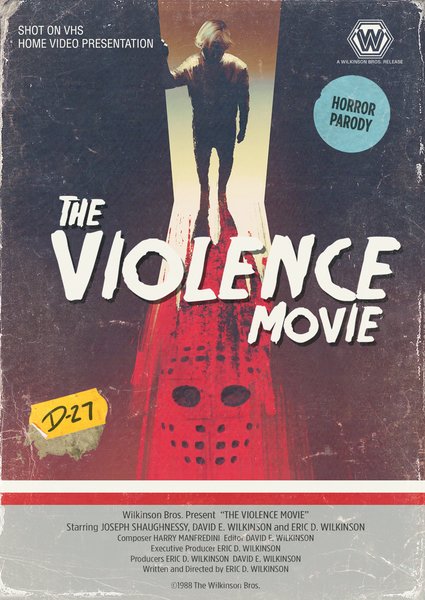 Violence Movie 1 and 2 DVD
Street Date 6/12/18

All pre-orders will be shipped as soon as they are in stock. Sometimes this is 1-2 weeks early, sometimes this might be a few days after the street date.

If other in-stock items are ordered at the same time, all items will ship together. If you want your in-stock items shipped immediately, please place pre-orders separately.

All dates, artwork and features are subject to change.

Pre-orders will be charged when you place the order.

No cancellations on pre-orders.


THE VIOLENCE MOVIE:

When a deranged killer (David Wilkinson) escapes from prison, he inexplicably invades the home of Joey Hammond (Joseph Shaugnessy) who must fight for his life in order to stay alive. Shot on VHS back in 1988 (with additional footage added in 2003) by a teenage Eric D. Wilkinson (who went on to produce Jerome Bixby's The Man From Earth, Mischief Night, Sparks), the short was passed around on bootleg VHS tapes for years before the term "viral" ever existed. Almost 30 years later, this homage to slasher movies has been re-mastered, re-edited and re-scored (from none other than the legendary Friday the 13th composer Harry Manfredini) is now available for all to enjoy!

THE VIOLENCE MOVIE 2:

Was it real or was it a dream? For some unexplained reason Joey Hammond (Joseph Shaughnessy "The Violence Movie", "Generation X Live!") returns in this action packed sequel to The Violence Movie (with a brand new original score once again by Friday the 13th composer Harry Manfredini). This time the crazed serial killer (David Wilkinson "Jersey Girl", "The Violence Movie", "Generation X Live!") is relentless in his pursuit of the innocent Joey with 2 times the action, 2 times the gore, 2 times the body count, and 2 times the fun! It's the sequel in which you will keep asking yourself, "Why?"
FEATURES:
Audio Commentary featuring star David Wilkinson and writer / director Eric D. Wilkinson
Unreleased alternate version of 'The Violence Movie 2' with optional audio commentary
Deleted scenes and outtakes from 'The Violence Movie' and 'The Violence Movie 2'
'Violence in '03': The brothers Wilkinson re-visit the scene of the crime for re-shoots 15 years later
The original opening credit sequences for both 'The Violence Movie' and 'The Violence Movie 2'
Trailer
Original 'Script' (if you want to call it that)
Photo Gallery
Reversible artwork
Featured Products