Underground Entertainment Blu-Ray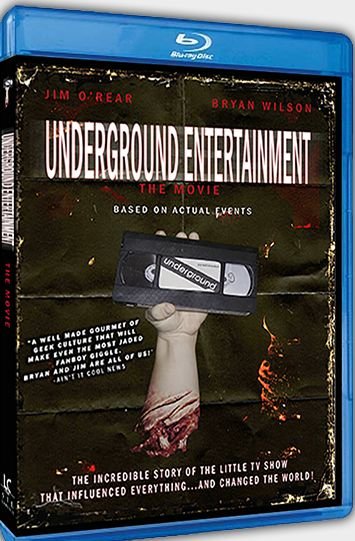 Underground Entertainment Blu-Ray
SIB Studios presents UNDERGROUND ENTERTAINMENT: THE MOVIE. Featuring Robert Englund (A NIGHTMARE ON ELM STREET), William Forsythe (THE DEVIL'S REJECTS, RAISING ARIZONA), Ernie Hudson (GHOSTBUSTERS, OZ), Danielle Harris (HALLOWEEN, HATCHET 2), Jim O'Rear (LETHAL WEAPON 3, DAY OF THE DEAD), Bryan Wilson (ROBODOC, RESURRECTION), Tony Todd (CANDYMAN, 24), Billy Drago (THE UNTOUCHABLES), Cerina Vincent (CABIN FEVER, NOT ANOTHER TEEN MOVIE), Mel Tillis (CANNONBALL RUN), and many more.
In 1990 a television series was born that was unlike anything the world had yet seen. Created by Jim O'Rear and Bryan Wilson, UNDERGROUND ENTERTAINMENT captured the planet in its grip weekly, introducing humankind to new pleasures, experiences, and freedoms.
Now, twenty years after its television debut, UNDERGROUND ENTERTAINMENT returns with an all-star cast as a hilarious, irreverent feature-length MOCK-umentary that chronicles the creation and eventual demise of an award-winning icon in television entertainment.
UNDERGROUND ENTERTAINMENT: THE MOVIE is the incredible true story of the little television show that influenced everything and changed the world.
FEATURES:
Blooper Reel
Deleted Scenes
Director's Commentary Track
Alternate Endings
Original Trailers
Featured Products