Sweet Sweetback's Baadasssss Song Blu-Ray/DVD
Sweet Sweetback's Baadasssss Song Blu-Ray/DVD
Street Date 5/29/18

All pre-orders will be shipped as soon as they are in stock. Sometimes this is 1-2 weeks early, sometimes this might be a few days after the street date.

If other in-stock items are ordered at the same time, all items will ship together. If you want your in-stock items shipped immediately, please place pre-orders separately.

All dates, artwork and features are subject to change.

Pre-orders will be charged when you place the order.

No cancellations on pre-orders.


One of the most iconic, notorious, and influential American films of the 1970s, Melvin Van Peebles' SWEET SWEETBACK'S BAADASSSSS SONG stars Van Peebles as Sweetback, a black orphan raised in a brothel and groomed into becoming a sex show performer. Set up by his boss and two corrupt white policemen for a murder he didn't commit, Sweetback escapes custody only to find himself thrust into an increasingly hallucinogenic world of violence and bigotry where no one can be trusted and the possibility of death lurks at every corner…
Considered to be among the most significant features ever directed by a black filmmaker and included in the permanent collection of The Museum of Modern Art, SWEET SWEETBACK is a brutal and shocking story of survival and is credited as the first 'blaxploitation' film ever made. Featuring a rousing score from a nascent Earth, Wind, & Fire as well as surrealist tinged visuals from cinematographer Robert Maxwell, Van Peebles creates an unforgettable and immersive study of perseverance in the face of racism. Vinegar Syndrome proudly brings this landmark film to Blu-ray, newly restored in 4K from its original 35mm camera negative.
FEATURES:
Region free Blu-ray/DVD combo
Newly scanned and restored in 4k from 35mm original camera negative
Career interview with Melvin Van Peebles, courtesy of Olumide Productions
"One Baadasssss Woman!" – an interview with Niva Ruschell (actress)
Extensive Q&A from the 2013 Black Panther Film Festival at the Maysles Center in Harlem
"The Real Deal (What it was…is!)" – archival 'making of' doc by Melvin Van Peebles
Historical commentary track with Sergio Mims (assistant director of PENITENTIARY)
Archival still gallery
Trailers for: SWEET SWEETBACK, STORY OF A THREE-DAY PASS & DON'T PLAY US CHEAP
Extensive booklet essay by Travis Crawford
Reversible cover
English SDH subtitles
Featured Products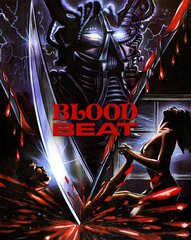 Blood Beat Blu-Ray/DVD
$21.99
Corpse Grinders Blu-Ray
$19.99