Sunset Society Blu-Ray/DVD/CD/7-Inch
Sunset Society Blu-Ray/DVD/CD/7-Inch
Street Date 7/24/18

All pre-orders will be shipped as soon as they are in stock. Sometimes this is 1-2 weeks early, sometimes this might be a few days after the street date.

If other in-stock items are ordered at the same time, all items will ship together. If you want your in-stock items shipped immediately, please place pre-orders separately.

All dates, artwork and features are subject to change.

Pre-orders will be charged when you place the order.

No cancellations on pre-orders.


Welcome to the world of the Sunset Society, a secret organization in Hollywood where parties are held, musicians gather and blood flows freely! Ace (Lemmy from "Motorhead") is the head vampire in charge who likes to keep the fun going while keeping the profile low. However, due to a few rebels in his midst, humans are starting to catch on to his vampire ways. In an attempt to keep a lid on his organization, Ace enlists the help of Frankie (Ron Jeremy), Sophia (Phoebe Dollar), and Mr. Cross (Robert Donavan) to stop the leak of information. An innocent woman is turned into a vampire without permission and she is starting to cause problems. A streetwalker has recorded a DVD of real vampire activity on the Sunset Strip and is now selling the disc on the street to the highest bidder. And Dagger, a disgruntled vampire, wants to try to live as a human again no matter what the cost. Everyone is now in danger as passions get out of control, bodies are invaded and loyalties are put to the limit. Between blood orgies and magic spells, Ace has his hands full but can even he stop the secret of his underground society from getting out to the public at large and who will survive the wrath of the unknown vengeful stranger now stalking all the vampires for revenge?! Nobody is quite what they seem when the sun goes down in this land of dreams and nightmares. SUNSET SOCIETY - is a fresh take on the vampire lore. Loaded with rocking songs, sexy girls, and Lemmy's final starring performance, get ready for a horrific and bloody adventure where music, animation, and legends come together and live forever!

FEATURES:
Includes 'Etched' 7inch vinyl single, CD audio soundtrack, standard definition DVD in package!
Featured Products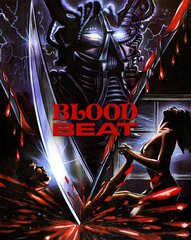 Blood Beat Blu-Ray/DVD
$21.99
Corpse Grinders Blu-Ray
$19.99