Serial Mom Blu-Ray
Every woman wants to be wanted… just not for Murder One
Director John Waters (Pink Flamingos, Hairspray) brings his twisted cinematic vision to the seemingly mundane world of suburbia in Serial Mom, an outrageous dark comedy starring Kathleen Turner (Body Heat, Romancing The Stone).
Beverly (Turner) is the perfect happy homemaker. Along with her doting husband Eugene (Sam Waterston) and two children, Misty (Ricki Lake) and Chip (Matthew Lillard), she lives a life straight out of Good Housekeeping. But this nuclear family just might explode when Beverly's fascination with serial killers collides with her ever-so-proper code of ethics – transforming her from middle class mom to mass murderer! Soon, the bodies begin to pile up… and suburbia faces a horror even worse than wearing white after Labor Day.
Featuring appearances by Mink Stole, Suzanne Somers, Traci Lords, and Patty Hearst, Serial Mom is a bloody hilarious tale that's as American as motherhood, the flag, and apple die.
FEATURES:
NEW – A Conversation With Director John Waters, Actress Kathleen Turner And Actress Mink Stole
Serial Mom: Surreal Moments – Featuring Interviews With Waters, Stole, Actress Patricia Hearst, Actress Ricki Lake, Actor Matthew Lillard, Casting Director Pat Moran, Production Designer Vincent Peranio & More!
Feature Commentary With John Waters And Kathleen Turner
Feature Commentary With John Waters
The Making Of Serial Mom – Original Promotional Featurette
The Kings Of Gore: Herschel Gordon Lewis And David Friedman Featurette
Original Theatrical Trailer
Featured Products
Barn Blu-Ray
$21.99
Terrifier Blu-Ray/DVD
$19.99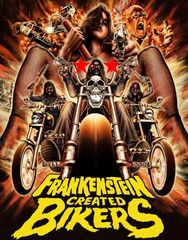 Frankenstein Created Bikers Blu-Ray