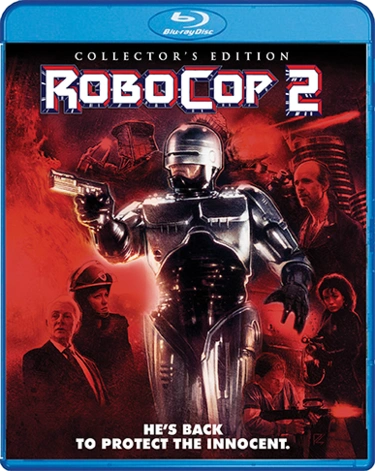 Robocop 2 Blu-Ray
RoboCop returns to fight his toughest opponent yet: his replacement!
RoboCop 2 pits two unstoppable cyborgs against each other in a battle to the death! When Detroit's decent into chaos is further compounded by a police department strike and a new designer drug called "Nuke," only RoboCop can stop the mayhem. But in his way are an evil corporation that profits from Motor City crime and a bigger and tougher cyborg with a deadly directive: Take out RoboCop. Containing the latest gadgetry and weaponry as well as the mind of the madman who designed "Nuke," this new cyborg isn't just more sophisticated than his predecessor... he's psychotic and out of control! And it's going to take everything RoboCop has – maybe even his life – to save Detroit from complete and utter anarchy.
FEATURES:
NEW 2K Scan Of The Interpositive
NEW Audio Commentary With Author/CG Supervisor Paul M. Sammon
NEW Audio Commentary With The Makers Of "RoboDoc: The Creation Of RoboCop" Documentary – Gary Smart, Chris Griffiths And Eastwood Allen
NEW Corporate Wars: The Making Of ROBOCOP 2 – Featuring New And Vintage Interviews With Director Irvin Kershner, Producer Jon Davidson, Cast Members Tom Noonan, Nancy Allen, Galyn Görg, Executive Producer Patrick Crowley, And More!
NEW Machine Parts: The FX Of ROBOCOP 2 – Featuring Phil Tippett, Peter Kuran, Craig Hayes, Jim Aupperle, Kirk Thatcher, Paul Gentry, Don Waller, Justin Kohn, Randal Dutra And Kevin Kutchaver
NEW Robo-Fabricator – An Interview With RoboCop Armor Fabricator James Belohovek
NEW Adapting Frank Miller's ROBOCOP 2 – An Interview With Comic Book Writer Steven Grant
NEW OCP Declassified – A Collection Of Rare Archival Production And Behind-The-Scenes Videos Including Interviews With Director Irvin Kershner, Actors Peter Weller, Dan O'Herlihy And A Look At The Filming Of Some Deleted Scenes
Theatrical Trailer
Teaser Trailers
TV Spots
Deleted Scenes Still Gallery
Still Galleries (Behind-The-Scenes Photos, Stills, Posters And Lobby Cards)
Featured Products
Barn Blu-Ray
$21.99
Terrifier Blu-Ray/DVD
$19.99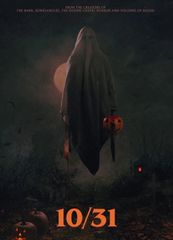 10/31 DVD
$16.99