Party Nerds Toga Bash Double Feature DVD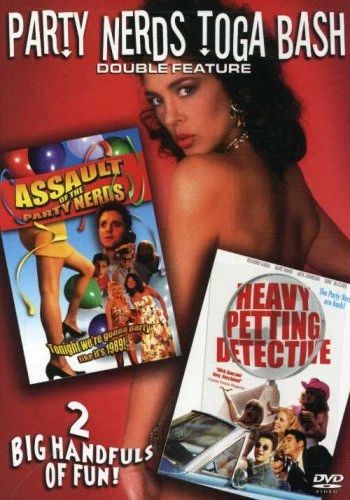 Party Nerds Toga Bash Double Feature DVD
The Heavy Petting Detective
It's Greek versus Geek once again in this sequel to the broad comedy Assault of the Party Nerds. Evil but slow-witted frat boy Bud (Christopher Dempsey) hasn't changed much in the five years since he graduated from college -- he somehow convinced his well-meaning former girlfriend, Muffin (Michelle Bauer), to marry him even though he's doing more than his share of fooling around on the side and her father, Randolph (Burt Ward), has given Bud a job in the family business. However, Bud and Randolph's duplicitous secretary, Heady (Tane McClure), have hatched a plan to take Randolph's business away from him. Randolph is certain Bud is up to something, so he calls in a private detective to follow him; the detective turns out to be none other than Richie Spencer (Richard Gabai), Bud's "Party Nerd" nemesis from his college days. While Richie digs up the dirt on Bud, he also signs on to help another client, Norm Witherspoon (Arte Johnson), who has a hunch his wife, Tina (Rhonda Shear), is being unfaithful to him. Assault of the Party Nerds 2: The Heavy Petting Detective also features Linnea Quigley and Robert Dorfmann.

Assault of the Party Nerds
It's Nerds vs. Frats (again) when the Nerds use a wing-ding party as a recruiting tactic. The jocks are out to spoil the party and harass the nerds.
FEATURES:

2 Directors' Commentary Tracks
2 Original Theatrical Trailers
Bloopers And Outtakes
3 Music Videos
Behind-the-scenes Footage
Richard Gabai's 9-song Record Album
Video Interviews With Burt Ward, Richard Gabai, Michelle Bauer and Linnea Quigley
Featured Products
Barn Blu-Ray
$21.99
Terrifier Blu-Ray/DVD
$19.99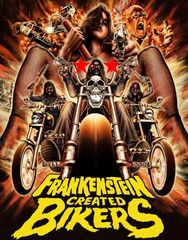 Frankenstein Created Bikers Blu-Ray