Monkey Shines Blu-Ray
Allan Mann (Jason Beghe, Chicago Fire) is a bitter, angry and vengeful man ever since an accident left him paralyzed from the neck down. He's fed up with himself and everyone around him. All that changes when he's given Ella, a monkey trained to meet his every need. But when Ella begins anticipating Allan's thoughts, strange and deadly things start happening. And as she stalks and wreaks havoc on Allan's fair-weather girlfriend (Janine Turner, Northern Exposure), incompetent doctor and meddling mother, Allan realizes he must stop the cunning maniacal creature...before she fully takes over his mind!
Kate McNeil (The House On Sorority Row), Joyce Van Patten (Grown Ups), Stephen Root (Office Space), John Pankow (To Live And Die In L.A.), and Stanley Tucci (The Hunger Games) also star in this riveting thriller from George A. Romero (Night Of The Living Dead)!
FEATURES:
NEW Audio Commentary With Writer/Director George A. Romero
NEW An Experiment In Fear - The Making Of "Monkey Shines" - An All-New Retrospective With George A. Romero, Stars Jason Beghe And Katie McNeil, Executive Producer Peter Grunwald, Special Make-Up Effects Creator Tom Savini And More!
Alternate Ending
Deleted Scenes
Behind-the-Scenes Footage
Vintage "Making of MONKEY SHINES" plus additional interview clips
Theatrical Trailers
TV Spot
Still Gallery
Featured Products
Barn Blu-Ray
$21.99
Terrifier Blu-Ray/DVD
$19.99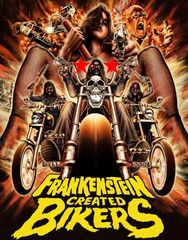 Frankenstein Created Bikers Blu-Ray