Grave Robbers Blu-Ray/DVD
Grave Robbers Blu-Ray/DVD
Street Date 6/26/18

All pre-orders will be shipped as soon as they are in stock. Sometimes this is 1-2 weeks early, sometimes this might be a few days after the street date.

If other in-stock items are ordered at the same time, all items will ship together. If you want your in-stock items shipped immediately, please place pre-orders separately.

All dates, artwork and features are subject to change.

Pre-orders will be charged when you place the order.

No cancellations on pre-orders.


Nora Mae Edwards had always dreamed that a handsome and wealthy man would offer to marry her, but she never expected to find love while working the night shift at a sleazy diner. However, when John Henry Cox proposes to her within moments of their meeting, Nora can't help but say yes. Whisked off to John's home town of Newbury to live in his family's mansion, Nora discovers that her new husband's profession is that of an undertaker, and that the local death toll is disproportionately high. As the joys of marital bliss soon give way to increasingly violent nightmares, she begins to suspect that her seemingly gentle husband may be harboring a dark secret, especially when she learns that she's far from the first 'Mrs. Cox,' but even more terrifyingly, that while her husband desires her body, he'd prefer it cold and dead…
A darkly humorous and vaguely supernatural story of necrophilia, GRAVE ROBBERS is a gruesome black comedy about the meaning of love and lust after death. Written and directed by Straw Weisman (FIGHT FOR YOUR LIFE), and the final producing effort from exploitation film tsar, Lew Mishkin, Vinegar Syndrome brings this direct-to-video rarity to Blu-ray, newly restored from its camera negative and fully uncut.

FEATURES:
Region free Blu-ray/DVD combo
Newly scanned and restored in 2k from 35mm camera negative
Commentary track with writer/director Straw Weisman
"Digging Up the Past" – interview with Straw Weisman
Director's introduction
Original video trailer
Reversible cover
English SDH subtitles
Featured Products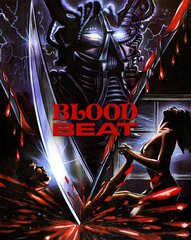 Blood Beat Blu-Ray/DVD
$21.99
Corpse Grinders Blu-Ray
$19.99