Fiend (Limited Edition) Blu-Ray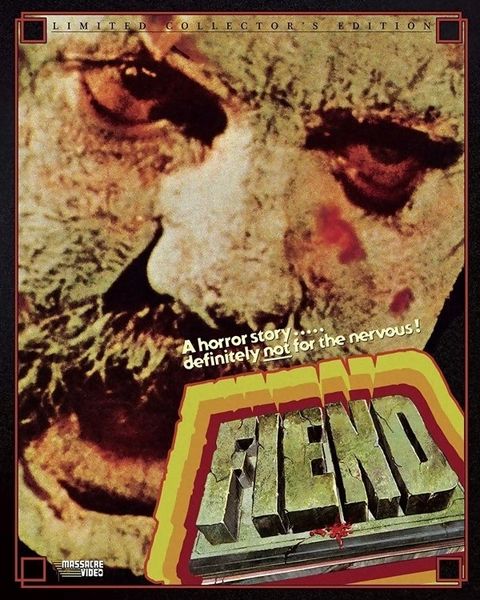 Fiend (Limited Edition) Blu-Ray
Street Date 1/15/19

All pre-orders will be shipped as soon as they are in stock. Sometimes this is 1-2 weeks early, sometimes this might be a few days after the street date.

If other in-stock items are ordered at the same time, all items will ship together. If you want your in-stock items shipped immediately, please place pre-orders separately.

All dates, artwork and features are subject to change.

Pre-orders will be charged when you place the order.

No cancellations on pre-orders.


After being awakened from the grave, Eric Longfellow (Don Leifert) takes up residence in a sleepy suburban cul-de-sac outside of Baltimore, establishing himself as a respected music teacher while secretly roaming the nearby woods, stalking and strangling young women so as to take over their life force. As residents descend into panic and paranoia, Longfellow's neighbor becomes increasingly suspicious of his unaccounted wanderings, unaware of his evil powers and unquenchable need for fresh victims.
 
The second feature film directed by Baltimore's best-kept filmmaking secret, the legendary self-taught auteur Don Dohler, FIEND is a meticulously made supernatural suspense thriller. Massacre Video proudly presents this under-seen 1980 ghoul fest in glorious HD, newly restored in 2k from its original 16mm A/B rolls, featuring rare archive interviews with the cast plus much more!
FEATURES:
Brand new 2k scan from the original 16mm A/B rolls
Brand new audio commentary featuring actor George Stover and cinematographer Richard Geiwitz, moderated by Cinema Arcana's Bruce Holecheck
On Fiend: Archival interviews with actors Don Leifert, Greg Dohler and Kim Dohler-Pfeiffer
The 8mm Shorts of Don Dohler - newly transferred in HD
Mr. Clay, Pursed: Horrors from the ID and TO DIE…OR NOT TO DIE
Newly transferred in 2k blooper reel
English captions
Extensive image gallery
Massacre Video trailers
Featured Products