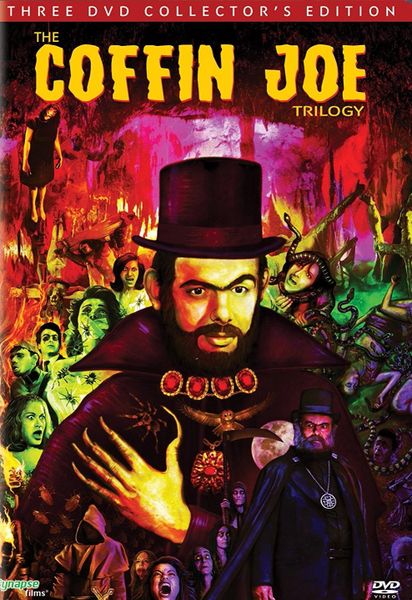 Coffin Joe Trilogy DVD
Unholy undertaker, sinful savant, denizen of dreams and hallucinations... Coffin Joe, with his trademark top hat, black cape and long talon-like fingernails, is a horror legend across the world. Portrayed by prolific Brazilian director Jose Mojica Marins, Coffin Joe has been immortalized in films, TV programs, comic books and popular songs. Marins has a strangely personal filmmaking style that can only be compared to an unholy blend of Russ Meyer, Mario Bava and Luis Bunuel.
Synapse Films is proud to present The Coffin Joe Trilogy, a three film DVD collection containing AT MIDNIGHT I'LL TAKE YOUR SOUL, THIS NIGHT I'LL POSSESS YOUR CORPSE and EMBODIMENT OF EVIL. This trilogy of films contains the classic story of Coffin Joe's descent into madness and violence as he murders and tortures men and women in his unholy quest to find the perfect bride.

FEATURES:
35mm negative scans of the first two films, supervised by director José Mojica Marins - The Making of AT
MIDNIGHT
I'LL TAKE YOUR SOUL (10 minutes)
Jose Mojica Marins discusses his short film, REINO SANGRENTO (1952) (9 minutes)
Interview with Jose Mojica Marins (6 minutes)
New scene filmed in 2002
Introduction to the film by Coffin Joe
The Making of THIS NIGHT I'LL POSSESS YOUR CORPSE (8 minutes)
A visit to the Coffin Joe Museum (5 mins.)
The Universe of Mojica Marins - Vintage Featurette (25 minutes)
Interview with Jose Mojica Marins (8 minutes)
Introduction to the film by Coffin Joe
Photo gallery - The Making of EMBODIMENT OF EVIL
Footage from the Fantasia Film Festival Premiere
Original Theatrical Trailers
Featured Products
Barn Blu-Ray
$21.99
Terrifier Blu-Ray/DVD
$19.99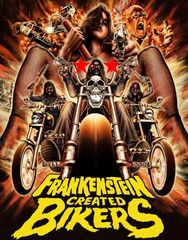 Frankenstein Created Bikers Blu-Ray