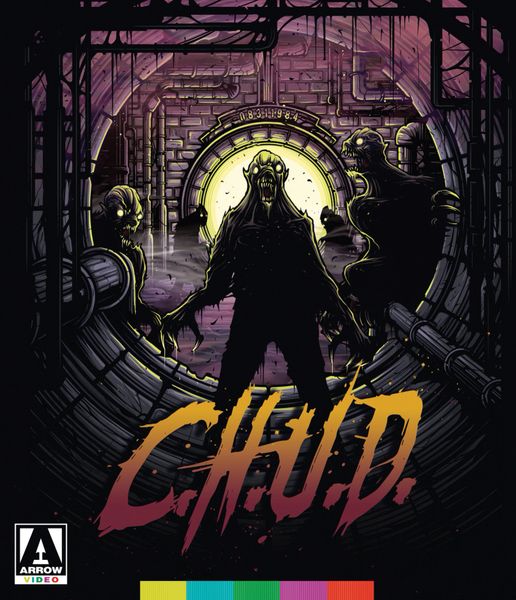 CHUD Blu-Ray/DVD
THEY'RE NOT STAYING DOWN THERE, ANYMORE! From the subterranean depths it crawls! Finally making its long-awaited debut on Blu-ray, director Douglas Cheek's cult '80s favorite C.H.U.D. is the ultimate underground movie experience. In downtown Manhattan, a police captain's hunt for his missing wife leads to the discovery of a series of mysterious disappearances in the area. Extending his search into the tunnels and sewers below the city streets, it soon becomes clear that something monstrous is lurking in that subterranean world - and it won't stay there much longer... Starring John Heard (Home Alone) and Christopher Curry (Starship Troopers) alongside an early appearance from John Goodman, C.H.U.D. has justifiably built up a huge cult following in the years since its release in 1984, with one of the most iconic creature designs of the period.
FEATURES:
Brand new restoration from original film elements
High Definition Blu-ray (1080p) presentation of the Integral Cut from a new 2K film transfer
High Definition Blu-ray (1080p) presentation of the Original Theatrical Cut [Limited Edition Exclusive]
Original Uncompressed PCM Mono Audio / Optional English subtitles for the deaf and hard of hearing
Audio commentary by director Douglas Cheek, writer Shepard Abbott, and actors John Heard, Daniel Stern and Christopher Curry
A Dirty Look- an interview with production designer William Bilowit
Dweller Designs - an interview with special make-up effects and creature creator John Caglione, Jr.
Notes from Above Ground: The NYC Locations of C.H.U.D. - featurette hosted by journalist Michael Gingold and filmmaker Ted Geoghegan
Brand new audio track featuring isolated score selections and an interview with composers Martin Cooper and David A. Hughes
Behind-the-Scenes Gallery
Extended Shower Scene
Original Theatrical Trailer
Reversible sleeve featuring original and newly commissioned artwork by Dan Mumford
Fully illustrated collector's booklet featuring new writing on the film by Michael Gingold
Featured Products