Bram Stoker's Shadowbuilder Blu-Ray
Bram Stoker's Shadowbuilder Blu-Ray
Street Date 8/28/18

All pre-orders will be shipped as soon as they are in stock. Sometimes this is 1-2 weeks early, sometimes this might be a few days after the street date.

If other in-stock items are ordered at the same time, all items will ship together. If you want your in-stock items shipped immediately, please place pre-orders separately.

All dates, artwork and features are subject to change.

Pre-orders will be charged when you place the order.

No cancellations on pre-orders.


A demon is summoned to take the soul of a young boy, who has the potential to become a saint. If the demon succeeds, it will open a doorway to Hell, blazing a terrifying trail of destruction, possession and mayhem and destroy humanity. Now the fate of the world hinges on the final outcome of a renegade priest's battle with the soul eating SHADOWBUILDER.
From the mind of the master, Bram Stoker, the creator of "Dracula" comes the epic struggle between good and evil in SHADOWBUILDER, featuring an all-star cast that includes Michael Rooker (Guardians of the Galaxy), Leslie Hope (Crimson Peak), Kevin Zegers (Dawn of the Dead) and Tony Todd (Candyman).
Featured Products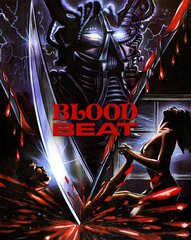 Blood Beat Blu-Ray/DVD
$21.99
Corpse Grinders Blu-Ray
$19.99