Blood Of Ghastly Horror DVD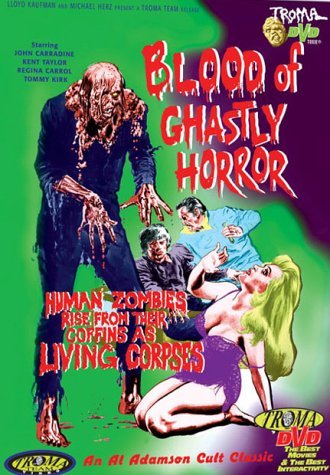 Blood Of Ghastly Horror DVD
Director Al Adamson and producer Sam Sherman picked a suitably vague title for their incoherent horror film about jewel thieves, a psychotic Vietnam vet with an electronic brain, and a vengeful killer with a bright blue zombie henchman. Laden with flashbacks and sidetracks, this was another of Adamson's do-overs, an unfinished picture reborn with new scenes and an entirely new story. "It's a little choppy," says Sam Sherman with deadpan understatement in his introduction. "If you fall asleep I swear you'll think you've woken up in two different movies." Only two?
Former Disney star Tommy Kirk stars as the tough detective who gets a severed head in the mail, Regina Carrol (Adamson's wife) is an innocent targeted by the mad killer with revenge on his mind, and John Carradine receives top billing for what must be a single day's work as Dr. Van Ard, whose misguided science project starts the whole mess. It's not hard to see where the two films--the heist picture and the horror film--were stitched together because the seams are glaring, but that's hardly the worst Blood of Ghastly Horror has to offer. Wooden performances, clumsy drama, bizarre dialogue ("Dr. Van Ard died a much more horrible death than he really deserved," eulogizes Kirk), awkward editing, and the worst camera work ever attributed to future Oscar winner Vilmos Zsigmond (Close Encounters of the Third Kind, The Deer Hunter) all contribute to this mind-boggling mess.
The DVD features a commentary by producer Sam Sherman, along with a newly recorded introduction, a profile taken from the cable TV series Split Screen, and trailers to this and four other Al Adamson-Sam Sherman collaborations.
Featured Products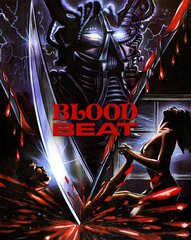 Blood Beat Blu-Ray/DVD
$21.99
Corpse Grinders Blu-Ray
$19.99