Black Devil Doll DVD
Five beautiful young women....one evil, murderous puppet. Heather thought that a Ouija board was nothing but an innocent child's game. Little did she know, this child's game would open a flaming door to hell and re-animate the soul of a recently executed black militant serial killer! With his spirit now trapped in the body of a trash-talking ventriloquist doll, Heather and her sexy friends must fight off the unrelenting horrors and unspeakable deviant advances of a three foot killer with a taste for young flesh and warm blood. Can they stop the BLACK DEVIL DOLL???

FEATURES:
Trailer! Original previews and exclusive festival clips

Audio commentaries! By the filmmakers and the Black Devil Doll himself
Still Gallery! Hot shots you won't see anywhere else
Behind The Scenes! The SCHOCKING world premiere. See exclusive footage from the wild New Beverly Hills cinema opening, featuring director Jonathan Lewis and a truckload of black d***s!
Featured Products
Barn Blu-Ray
$21.99
Terrifier Blu-Ray/DVD
$19.99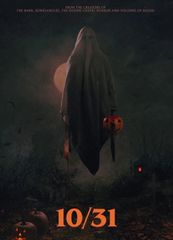 10/31 DVD
$16.99