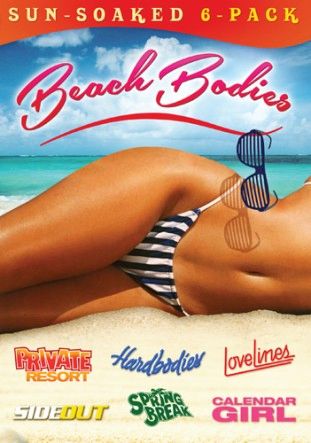 Beach Bodies DVD
Fun In The Sun!
Hardbodies (R)
When three middle-aged geezers move into a swinging beach house, they hire a young stud to teach them how to score with the local beauties.'80s band Vixen and hundreds of Southern California's hottest swimsuit models co-star in the legendary cult comedy.
Private Resort (R)
Jack and Ben check in at a posh Florida resort, planning to spend every hour in hot pursuit of babes. But their plans hit a major detour when they try to bed the wife of a conniving jewel thief. They'll have to outsmart him, a nasty security guard and an obnoxious jock if they're ever going to get a moment alone with the girl of their dreams!

Side Out (PG-13)
Summer Just Got A Lot Hotter!
The sands of Malibu set the scene as Monroe meets a beautiful marine biologist and is recruited to play California's hottest sport, professional volleyball. But it's only when Monroe teams up with Zack Barnes, the original "King of the Beach," that he learns just how much fun success - and teamwork - can truly be.

Calendar Girl (PG-13)
During the early 1960s, three friends, Roy, Ned and Scott, decide to follow their dream and go to Hollywood to find Marilyn Monroe. This leads the boys on a wild goose chase that leaves them running all around town and avoiding two loan sharks trying to get the money Roy stole from them.
Spring Break (R)
Adam and Nelson are naive college students who have come to Fort Lauderdale to perform these rites of Spring Break. Due to a mix-up, the boys end up in the same room with a pair of experienced guys from New York who coach the boys on the finer points of seduction - with mixed results.
Lovelines (R)
The Hottest Tickets In Town!
Piper is from Malibu High and Rick is from Coldwater Canyon High, and her muscle-bound brother is determined to do anything and everything to stop his sweet little sister from getting it on with some jerk from the Valley! Greed, lust, dirty tricks and bloody fist fights...it's just another day in the life of a teenager.
Featured Products
Barn Blu-Ray
$21.99
Terrifier Blu-Ray/DVD
$19.99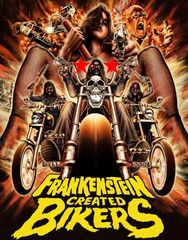 Frankenstein Created Bikers Blu-Ray