American Guinea Pig: Bouquet Of Guts And Gore (3-Disc Limited Edition) DVD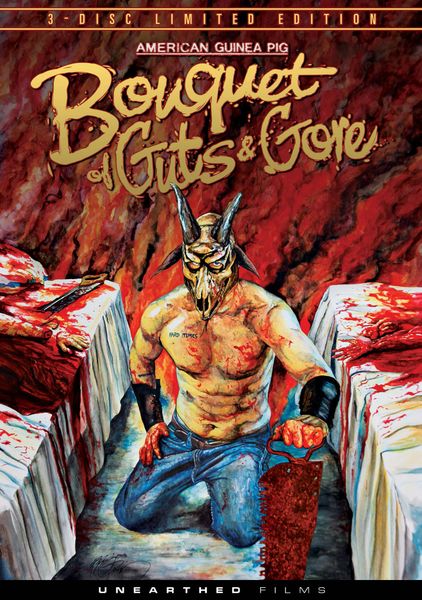 American Guinea Pig: Bouquet Of Guts And Gore (3-Disc Limited Edition) DVD
Two women are abducted by a group of snuff filmmakers and brought into a Hellish nightmare of unmistakable brutality, viciousness and destruction that will leave every viewer shocked, amazed and awestruck. A love letter to ultra gorehounds the world over. The American Guinea Pig Series is about to begin. Extras Audio Commentary with Marcus Koc & Stephen Biro Audio Commentary with James VanBebber & Stephen Biro Interview with Scott Gabbey & James Van Bebber Interview with Marcus Koch & Stephen Biro FX preproduction for AGP Making of Bouquet of Guts and Gore Music Video by Perdition Temple An extensive stills gallery Soundtrack CD 12 page booklet The Japanese set a standard with these movies, especially Flower of Flesh & Blood, of being crude and messy with little regard for what you think a movie should be. Director, writer and editor Stephen Biro takes that attitude and saws your fu%king legs off with it. - CINESPLOITATION I guarantee it will leave the most hardened gore fans stunned, like a shotgun blast to the face. - LAIR OF FILTH Mr. Biro's film is a true gore masterpiece! I felt as if I had been immersed in a swimming pool of ravaged flesh and entrails. - STRICTLY SPLATTER FLOWER OF FLESH AND BLOOD has long been one of the most, if not the most convincing pseudo-snuff films in the history of subversive underground horror cinema... that is until now. - SEVERED CINEMA Sometimes, ya just gotta flush out your eye sockets after what you've seen. - - DREAD CENTRAL Stephen Biro is one cruel son of a bi*ch. This isn't a movie you can simply write off as gross. It's something far deeper for which I am sure only Lucifer himself could decipher. - RYAN NICHOLSON Director of Gutterballs, Live Feed and Collar. If you are into gore and want to test your endurance, AGP will be your next task. - SADISTIC CINEMA TWISTED AS ALL HELL! - HORRORNEWS.NET
FEATURES:
Commentary with Marcus Koch and Stephen Biro
Commentary with Jim VanBebber and Stephen Biro
Alternate scenes
Cut Scenes
The Making of American Guinea Pig 1:45 minutes
Special Effects: Behind The Scenes Pre-Production of AGP 25 minutes
Interviews with Jim VanBebber. Director of DeadBeat at Dawn and the Manson Family and Scott Gabbey. President of Ultra Violent Magazine
Interview with Marcus Koch, Director of 100 Tears and FX Guru and Director Stephen Biro of AGP and President of Unearthed Films.
FX Pre-production Still Gallery
On Set Still Gallery
12 Page Booklet
Alternate Trailers
CD Soundtrack
Perdition Temple Music Video
https://www.youtube.com/watch?v=HmE1RU-AFWo
Featured Products
Barn Blu-Ray
$21.99
Terrifier Blu-Ray/DVD
$19.99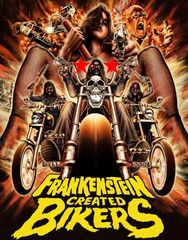 Frankenstein Created Bikers Blu-Ray