Up From The Depths / Demon Of Paradise DVD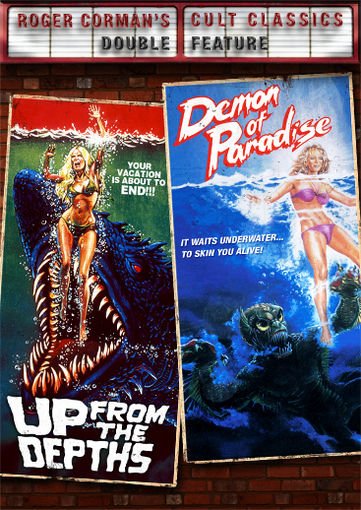 Up From The Depths / Demon Of Paradise DVD
UP FROM THE DEPTHS (1979)
In Up From The Depths, staff and vacationers at a first-class resort on the island of Maui are beginning to mysteriously disappear. A biologist believes that an underwater earthquake has caused a giant and very hungry dormant prehistoric fish to be released from his slumber. Voraciously the fish helps himself to a tourist buffet. Now it's open season for the local fishermen to find the creature and kill it! Starring Sam Bottoms (Apocalypse Now, The Outlaw Josey Wales).
DEMON OF PARADISE (1987)
The hunters become the prey when illegal dynamite-fishing prematurely ends the hibernation of a mythological carnivorous lizard-man in Demon Of Paradise. The owner of the local resort, whose patrons have become the appetizers on this predator's menu, and a herpetologist join forces with the sheriff to save the tourists from succumbing to the feasting of the beast. Starring Kathryn Witt (Cocaine Wars, Star 80) and directed by cult filmmaker Cirio H. Santiago (The Big Doll House, TNT Jackson).
FEATURES:
UP FROM THE DEPTHS
New Anamorphic Widescreen Transfer (1.78:1)
TV And Radio Spots
Theatrical Trailer
DEMON OF PARADISE
New Anamorphic Widescreen Transfer (1.78:1)
Theatrical Trailer
Featured Products