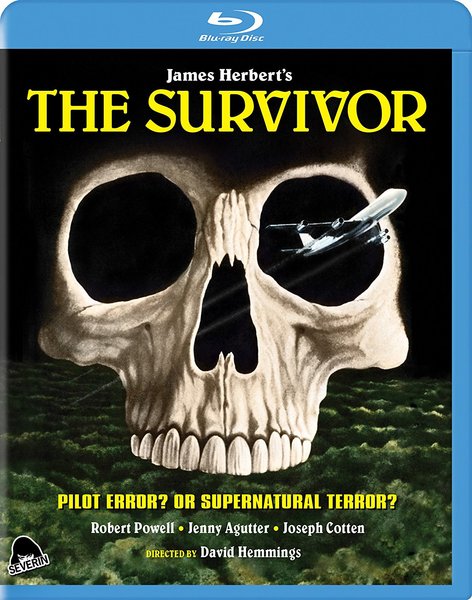 Survivor Blu-Ray
Street Date 2/14/17

All pre-orders will be shipped as soon as they are in stock. Sometimes this is 1-2 weeks early, sometimes this might be a few days after the street date.

If other in-stock items are ordered at the same time, all items will ship together. If you want your in-stock items shipped immediately, please place pre-orders separately.

All dates, artwork and features are subject to change.

Pre-orders will be charged when you place the order.

No cancellations on pre-orders.


When a 747 crash lands in a Sydney suburb - a still-spectacular sequence that helped make this the most expensive Australian film of its time - the inferno kills everyone on board except the pilot (Robert Powell of JESUS OF NAZARETH and TOMMY) who emerges from the wreckage miraculously unscathed. But as a local psychic (Jenny Agutter of AN AMERICAN WEREWOLF IN LONDON) begins to communicate with the spirits of the doomed passengers, it will unlock a nightmare of madness, murder, and supernatural horror. Hollywood legend Joseph Cotten - in his final film performance - co-stars in this shocker directed by British film icon David Hemmings (BLOW-UP, DEEP RED) and produced by Ozploitation maverick Antony I. Ginnane (THIRST, PATRICK, TURKEY SHOOT), featuring haunting cinematography by Academy Award(R) winner John Seale (THE ENGLISH PATIENT, MAD MAX: FURY ROAD) and now transferred in 2k HD for the first time ever.
FEATURES:
Not Quite Hollywood Extended Interviews with Producer Antony I. Ginnane and Cinematographer John Seale
The Legacy of James Herbert
Robert Powell on James HerbertArchive TV Special On Location Featuring Interviews with Stars Joseph Cotten and Peter Sumner
Archive TV Interview with David Hemmings
Archive TV Interview with David Hemmings and Robert Powell
Antony I. Ginnane Trailer Reel
TV Spot
Featured Products