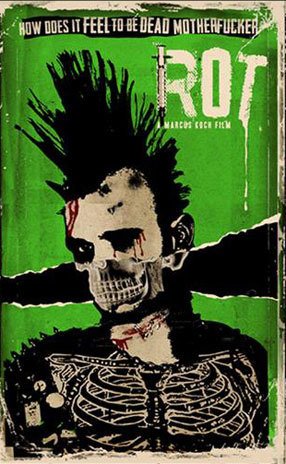 Rot DVD
Marcus Koch's Splatterpunk Masterpiece
Gutter punks shouldn't play with dead things…or have sex with them. When Sarah (Tiffany Stinky) screws a corpse in the local funeral home she gets the "ROT", a deadly, flesh-eating virus that soon infects her punk rock boyfriend Muzzy (Billly $cam).
Realizing they are doomed to rot alive together, Sarah and Muzzy set out on a nihilistic rampage, spreading ultra-violence and the virus in their chaotic wake. As the plague of rotting flesh rages out of control, the FBI, secretive government agencies, and Dr. Robert Olsen (Joel D. Wynkoop), the deranged scientist who created the "ROT", become involved, making everything far worse for the citizens of Sunnyville, Florida.
For the first time ever…this underground, out-of-print classic has finally made its way to DVD bringing its gag-inducing gore, goo, and punk rock sensibilities with it. Get infected today!
FEATURES:
New Behind the Scenes Video
Original Behind the Scenes Video
New Audio Commentary w/ Marcus Koch and Joel D. Wynkoop
Original Audio Commentary with Marcus Koch and Billly $cam
Marcus Koch: The Herb Kowalski Interview
The Goriest Minute – ROT Episode
Trailers
Featured Products