Phantom Of The Opera Blu-Ray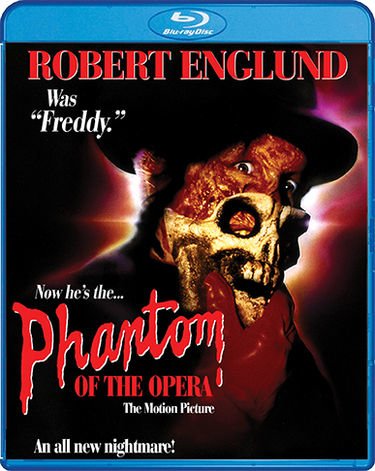 Phantom Of The Opera Blu-Ray
Robert Englund (A Nightmare on Elm Street, Galaxy of Terror, Freddy vs. Jason) assumes the classic role of The Phantom in this shocking, nerve-jangling retelling of Gaston Leroux's timeless tale of music, madness and murder!
An aspiring opera singer finds herself transported back to Victorian-era London – and into the arms of a reclusive, disfigured maestro determined to make her a star. The silver-throated Christine (Jill Schoelen, The Stepfather) enjoys success through the arrangements of her new lover (Englund)... until she realizes that he has been committing unspeakably grisly murders in her honor and won't stop until he's completed his masterpiece... in blood!
Also starring Bill Nighy (I Frankenstein, Shaun of the Dead, Underworld), Alex Hyde-White (Indiana Jones and the Last Crusade), Terence Harvey (From Hell) and Molly Shannon (SNL, Superstar), directed by Dwight H. Little (Halloween 4: The Return of Michael Myers, Marked for Death, Rapid Fire) and featuring make-up effects by Kevin Yagher (A Nightmare on Elm Street 2: Freddy's Revenge, Face/Off), this "darker spin on…The Phantom of the Opera is the one to watch" (HorrorCultFilms.co.uk)!
FEATURES:
Audio Commentary With Director Dwight H. Little And Actor Robert Englund
Behind The Mask: The Making Of "The Phantom Of The Opera," Featuring New Interviews With Director Dwight H. Little, Actors Robert Englund, Jill Schoelen, And Alex Hyde-White, Screenwriter Duke Sandefur, Special Make-Up Designer Kevin Yagher, And More!
Theatrical Trailer
TV Spot
Radio Spots
Still Gallery
Featured Products