Ozone (10th Anniversary Special Edition) DVD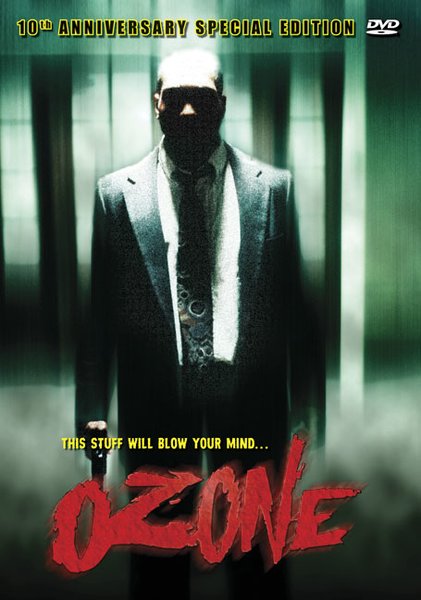 Ozone (10th Anniversary Special Edition) DVD
There's a new drug on the streets! While on a stakeout to nail a dealer's top aide, hardboiled cop Eddie Boone loses his partner and gets injected with a dangerous new designer drug with nightmarish side effects. While searching for his partner, he begins to see the world a little differently — the urban streets are now full of mutants, monsters and mayhem! The trail leads to a den of evil where Eddie is introduced to The Drug Lord, the mastermind behind the lethal narcotic, and ends with an explosive finale that will have you glued to your seat in nervous anticipation of the next second of terror! (aka "STREET ZOMBIES")
FEATURES:
Digitally remastered picture from the original elements (1.33:1 full-frame)
Dolby Digital 5.1 surround remix
Commentary track with producer/director J.R. Bookwalter and star James Black
"Paying for Your Past Sins: The OZONE Story" making-of featurette (30 mins.)
"Into The Black" — James Black & OZONE (8 mins.)
Behind-the-scenes footage (7 mins.)
Location tour with actor James L. Edwards (5 mins.)
Early test footage shot by the screenwriter (13 mins.)
OZONE: DROGA MORTAL — Scenes from the Spanish-language version (12 mins.)
Isolated music score audio track
1992 B's Nest Video Magazine intro (6 mins.)
Production still gallery
Conceptual art & box cover gallery
Articles & reviews press gallery
Trailers from U.S. 1993, 2003, "Street Zombies" re-release and 1995 Japanese release
Tempe DVD trailers & coming attractions
Full-color insert with introduction by producer/director J.R. Bookwalter
Reversible sleeve — choose your favorite artwork!
Bonus hidden Easter egg!
Featured Products