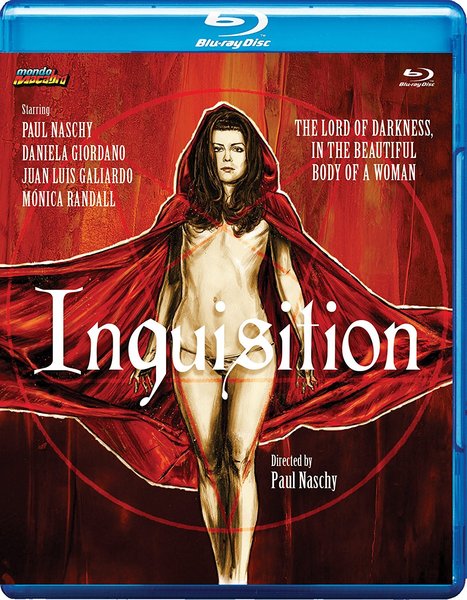 Inquisition Blu-Ray
Street Date 6/13/17

All pre-orders will be shipped as soon as they are in stock. Sometimes this is 1-2 weeks early, sometimes this might be a few days after the street date.

If other in-stock items are ordered at the same time, all items will ship together. If you want your in-stock items shipped immediately, please place pre-orders separately.

All dates, artwork and features are subject to change.

Pre-orders will be charged when you place the order.

No cancellations on pre-orders.


In 16th century France, Inquisitor and magistrate Bernard de Fossey (Paul Naschy) travels to the plague-ridden region of Peyriac in search of witches and devil worshippers. Local beauty Catherine (Daniela Giordano) quickly catches his eye, tormenting him with impure thoughts, although her affections lie with her handsome fiance Jean. Meanwhile, embittered one-eyed manservant Renover (Antonio Iranzo) presents Bernard with his first group of torture victims when he accuses several sexy young things who spurned his advances of being witches responsible for the plague. One by one beautiful women are tortured on the rack then burned at the stake. No-one seems able to halt the Inquisition's reign of terror or the baseless accusations that cause so many innocent deaths. When Jean dies in mysterious circumstances, Catherine allies herself with Satan to get revenge on her enemies - foremost among them, De Fossey himself.
This was horror star Paul Naschy's directorial debut and one of his very best films. He plays three roles - Inquisitor De Fossey, the Devil, and the Grim Reaper. The film is a brutal and unrelenting portrait of a past when superstition and terror ruled the minds of men.
FEATURES:
Introduction by Paul Naschy
Interview with star Daniela Giordano
Audio commentary by Rod Barnett and Troy Guinn (the Naschycast)
Blood and Sand - documentary on Spanish horror films
Featured Products