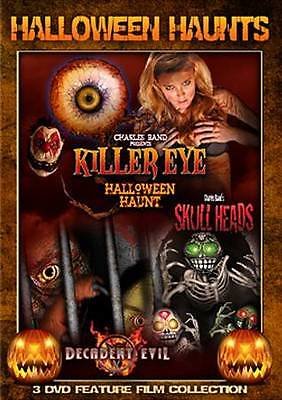 Halloween Haunts DVD
KILLER EYE: HALLOWEEN HAUNT: When Jenna asks her four hot girlfriends to help convert an old mansion into a Halloween Haunt, they decide to party instead! Things get steamy between the girls, until they accidentally unleash the half-pint, horrible Killer Eye, a perverse party crasher from beyond. Bent on having his way, the Killer Eye will stop at nothing until he gets exactly what he wants.

SKULL HEADS: For generations, the strange, inbred Arkoff family has lived in their creepy Italian castle undisturbed by the outside world. Until one night when their sanctuary is invaded by a trio of treacherous art thieves and the Arkoffs must fight for their lives, aided only by the ancient protectors of the castle.the deadly SKULL HEADS!

DECADENT EVIL: Marvin is a nasty, horny homunculus, part human/part reptile, who stands twelve inches tall. And lives alone, trapped inside a bird cage. Once completely human, Marvin was turned into a homunculus after his lover Morella (Debra Mayer), a 100 year old vengeful vampire, learned of his betrayal with another human. Set at the ""Meat Market,"" a decadent strip club, the male clientele unknowingly become victims of Morella and her sexy young vampire strippers, Sugar and Spyce (Jill Michelle and Raelynn Hennessee). As Morella executes her final kills to become the most powerful vampire of all, Marvin's son (Ivan, standing three ferocious feet tall (Phil Fondacaro), plans his ultimate revenge against her. Meanwhile, condemned to the birdcage for all eternity, Marvin suffers the added torture of hundreds of years worth of lustful, sexual frustration...until he gets out!
Featured Products