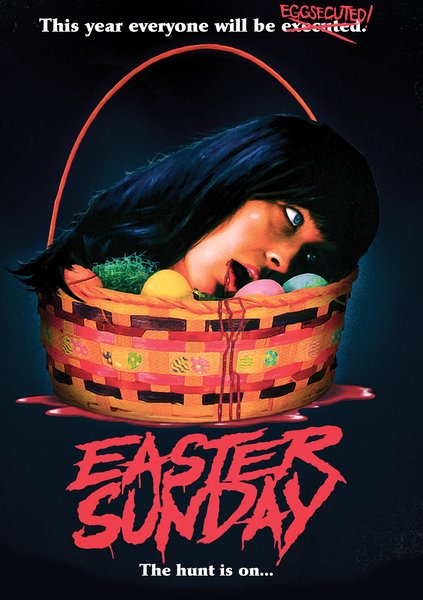 Easter Sunday DVD
Street Date 3/14/17

All pre-orders will be shipped as soon as they are in stock. Sometimes this is 1-2 weeks early, sometimes this might be a few days after the street date.

If other in-stock items are ordered at the same time, all items will ship together. If you want your in-stock items shipped immediately, please place pre-orders separately.

All dates, artwork and features are subject to change.

Pre-orders will be charged when you place the order.

No cancellations on pre-orders.


A group of hard partying teenagers set out to raise some hell. Instead, they raise the DEAD. It's been 24 years since the deranged serial killer Douglas Fisher was executed by police on Easter night, and his gruesome story became a terrifying urban legend. Then, during a drunken campfire ritual, a group of teens accidentally conjure the spirit of Douglas Fisher... aka the bunny masked killer! Unless they can stop him before Midnight on Easter, the evil bunny slasher will tear their town and everyone in it into pieces. So lock your doors and hide, or there will be no candy in your Easter basket - just the limbs and body parts of your family and friends! Doug Fisher kills everyone in sight, if you're not careful he'll take your head this Easter night.

FEATURES:
Behind-the-Scenes
Trailer Vault
Featured Products