Doomwatch Blu-Ray
Street Date 12/6/16

All pre-orders will be shipped as soon as they are in stock. Sometimes this is 1-2 weeks early, sometimes this might be a few days after the street date.

If other in-stock items are ordered at the same time, all items will ship together. If you want your in-stock items shipped immediately, please place pre-orders separately.

All dates, artwork and features are subject to change.

Pre-orders will be charged when you place the order.

No cancellations on pre-orders.

A remote island village... A team of intrepid scientists... A terrifying secret... The mysterious island village of Balfe is experiencing unexplainable phenomena from grossly oversized sea-life to half-buried bodies in the dark woods to strange Neanderthal like men suffering from a rare disfiguring disease. Is this town afflicted by radioactive waste contaminating their water? Is there a vengeful mutant monster lurking in the woods? Or worse, are the townsfolk being punished by an act of God for their past sins? It is up to Dr. Del Shaw (Ian Bannen, The Offence) and the dedicated scientists at Doomwatch headquarters to discover the cause of these horrific mutations. Infuriating local villagers who cling to their secluded island's survival, Dr. Shaw and local schoolteacher Victoria Brown (Judy Geeson, Fear in the Night) risk their lives to uncover the truth behind the strange happenings, no matter how frightening or dangerous it may be. Horror veteran, Peter Sasdy (Taste the Blood of Dracula, Countess Dracula, Hands of the Ripper) directed this haunting telltale based on the hit British TV show by Kit Pedler (Doctor Who) and Gerry Davis (The Bionic Woman).
FEATURES:
New On-camera Interview with Star Judy Geeson
New Audio Commentary by Director Peter Sasdy
Trailers
Featured Products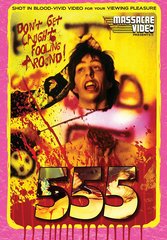 555 DVD
$12.99