Burningmoore Deaths DVD
Street Date 2/14/17

All pre-orders will be shipped as soon as they are in stock. Sometimes this is 1-2 weeks early, sometimes this might be a few days after the street date.

If other in-stock items are ordered at the same time, all items will ship together. If you want your in-stock items shipped immediately, please place pre-orders separately.

All dates, artwork and features are subject to change.

Pre-orders will be charged when you place the order.

No cancellations on pre-orders.

James Parrish never displayed any signs of mental instability. That was until he murdered his wife and three sons then disappeared without a trace. Although police and regional authorities conducted a nationwide search, Parrish was nowhere to be found. In March 2010, a home improvement company began filming their debut television show in an abandoned house on Bayside, Queens, NY. Unfortunately for them, James Parrish had taken up residence in the derelict building. They never expected the events that would unfold that day would chronicle a bloody tale of murder at the hands of a disturbed and brutal killer... and everything was caught on film.
Featured Products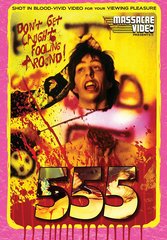 555 DVD
$12.99