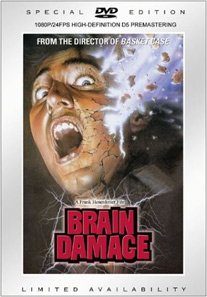 Brain Damage DVD
Aylmer's back and sharper than ever in this newly re-mastered DVD Limited Edition.
A worm-like parasite named Aylmer latches into Brian's (Rock Herbst) neck and offers to inject his brain with a hallucinogenic fluid, giving him pleasurable psychedelic experiences. But the catch is, to keep the "high", Brian has to feed Aylmer his favorite food… human brains! Directed by Frank Henenlotter (Basket Case, Frankenhooker), this amazing cult film favorite will have you screaming with laughter as you reach for your barf bag.
Now available on this DVD in a pristine new 2003 16:9 Anamorphic Widescreen transfer with a newly remixed Dolby Digital 5.1 track, BRAIN DAMAGE will jump off your screen and rock your speakers like never before. This version of BRAIN DAMAGE contains all the gore sequences deleted from the U.S. theatrical release, including the infamous "brain-pulling" sequence!
Limited to a pressing of 50,000 units, this DVD will only be available until the DVDs have sold out, then it will never be available again!
FEATURES:
NEW! 2003 Anamorphic Widescreen (1.78:1) Transfer in High-Definition
NEW! Dolby Digital 5.1 Track Remixed for Home Video Environments
NEW! Liner Notes
NEW! Animated Menus
Original Mono Soundtrack Included and an Isolated Music Score
Audio Commentary from Director Frank Henenlotter and BRAIN DAMAGE Novelist Bob Martin
Optimal Quality Dual-Layer RSDL Format for Optimal Picture Quality
Liner Notes
Theatrical Trailer
Featured Products