Action Packed Movie Marathon DVD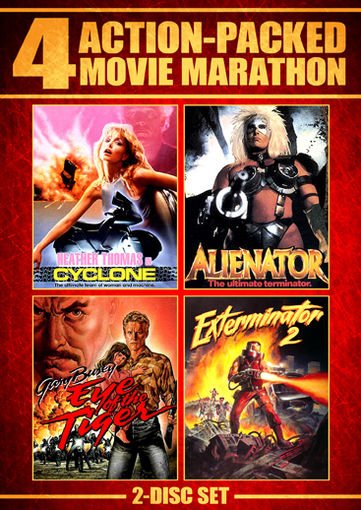 Action Packed Movie Marathon DVD
4X The Action, 4X The Excitement!
CYCLONE
1987/Anamorphic Widescreen/Dolby Digital Mono
When her inventor boyfriend (Jeffrey Combs, Re-Animator) is murdered, Teri Marshall (Heather Thomas, The Fall Guy) must keep his high-tech futuristic motorcycle from falling into the wrong hands. Martin Landau (Ed Wood), Troy Donahue (Hawaiian Eye) and Martine Beswick (Thunderball) costar in this explosive and thrilling adventure!
ALIENATOR
1990/Anamorphic Widescreen (1.85:1)/Dolby Digital Mono
From a remote space-station prison, an iron-willed alien warden sends an indestructible assassin, The Alienator, after an escaped prisoner who's crash-landed on Earth. This pulse-pounding sci-fi film stars Jan-Michael Vincent (The Mechanic), P.J. Soles (Halloween), John Phillip Law (Barbarella) and female bodybuilder Teagan as the Alienator.
EYE OF THE TIGER
1986/Anamorphic Widescreen (1.85:1)/Dolby Digital Stereo
When former Vietnam veteran and ex-con Buck Matthews (Gary Busey, Lethal Weapon) finds that his home-town has been overrun by a sadistic motorcycle gang, he enlists the help of a fellow vet to win the town back . Yaphet Kotto (Alien) and William Smith (Conan The Barbarian) also star in this action-packed epic!
EXTERMINATOR 2
1984/Anamorphic Widescreen (1.78:1)/Dolby Digital Mono
Robert Ginty reprises his role as the torch-wielding outlaw vigilante in this dynamic sequel. Drug lord X (Mario Van Peebles, New Jack City) and his army of thugs have declared war on New York City…but they have yet to meet someone like The Exterminator.
FEATURES:
EXTERMINATOR 2
Audio Commentary With Director Mark Buntzman And Actor Mario Van Peebles
Featured Products